Take Action and Create the Life You Want 
As a Neuroleadership Coach I am excited about working with individuals who want to reach their personal and professional goals, create new habits, develop new ways of thinking and ultimately maximize their full potential.
What about you – what are your current personal and/or professional goals? Do you want a promotion, a new job or a new career ? Do you want to generate more income or decrease your debt? Do you want to write a book? Build your dream home? Increase your fitness level? Improve your work or family relationships? Do you want to increase your client base, revenue or profitability?
Are you ready to make a commitment to yourself to achieve these fantastic goals? Do you want to achieve your goals faster and easier but don't know how to start?
If you answered a resounding "yes!" to some of these questions find out how a professional coach can help you achieve your goals faster and easier. Contact me about helping you create and pursue your great personal and professional goals. Please go to our Q & A section for more information on coaching.
As a coach it is exhilarating to see my clients make positive changes in their lives to attain the goals they set for themselves and achieve great results – you can too!
"While working with Marielle I gained a new perspective and I uncovered a renewed self-confidence which gave me the strength to achieve my goals. She was very supportive and encouraging and throughout the coaching process really made me think. I encourage you to go through the coaching process – you won't be disappointed." – Theresa C.
"I just wanted to say thank you for working with me and helping me get pointed in the direction I've been desiring to go for a long time.  The sessions we had really helped me identify the things in my life that I consider important, the things that I really enjoy doing (but weren't) and what I can do differently to really feel happy and satisfied with my life.  It was a really neat experience working with you and going through the various steps in your program; it wasn't at all about you telling me what I should be doing differently, instead, it was helping me answer my own questions.  Thanks again!" – Lisa K
For more information, prices or to book a workshop for your organization please contact us.
Marielle is also a certified Myers-Briggs Type Indicator (MTI) practitioner. The MBTI inventory helps people understand themselves – what  motivates them, their natural strengths and potential areas for growth. It's also a great tool to increase team effectiveness and cohesiveness.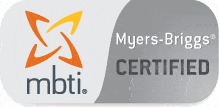 Create your extraordinary life!